"It's better to die in the Mediterranean than to die on land in Libya."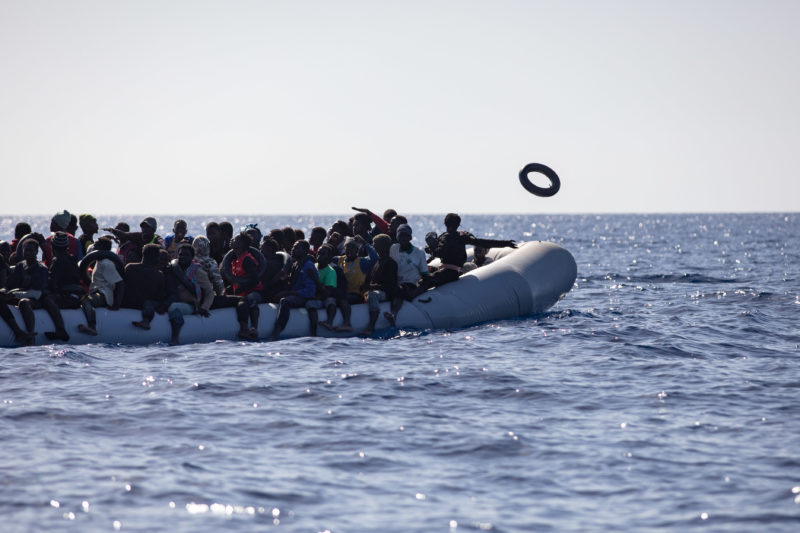 Content warning: The text describes forms of general violence.
Buba* is 18 years old and from Gambia. He was rescued in October 2022 from the crew of Humanity 1 in international waters off the coast of Libya. Buba describes the experience of his escape from Libya across the Mediterranean.
The text was written on board the rescue ship Humanity 1.
I ended up in Libya, but I knew nothing about it. I used to hear some of the stories that people talk about. I used to hear bad things. By the time I ended up in Libya, I knew that what people talked about was true.
There is no other country like Libya. It's a war zone. People there have this mental conception that they're better than foreigners. So, they treat them however they like. It's very difficult to describe how they treat us. You have to see it by yourself to understand what they do to us foreigners.
I tried to cross the sea from Libya three times. This was my third time, and I was in prison three times. They arrested me in the water two times and one time on land. I had to pay to get out of prison. One of my friends contacted my family to help me by bailing me out of prison. The reason I left my country was to earn money. But the money I paid to the prison was more than what I would've paid for attending college in Gambia! If that money for the prison had been with me in Gambia, I would've completed my college. My family paid that, it's crazy.
But I didn't give up. I still had to try to see what God was going to do for me in the future. That is why every time I went to sea, I did it with the confidence that maybe one day God would help me. And once I saw the rescue boat approaching us, I thought: "Oh my God!" I asked the other people on the boat if this truly was a rescue. Even though it was so close, and I could see it written there – SOS Humanity – I couldn't believe it, because I had tried to cross the ocean two times before and both times I had to go back to Libya. But this time, I was going forward. It really changed my feelings.
To get away across the sea in this kind of boat is crazy, it's not safe. The boats are not made for this.
You would think a human being, a normal human being, cannot put more than one hundred lives on such a rubber boat and tell them to sail a long distance like this. That is an example of how Libyan people behave. This is the way they treat us.
It is a very bad country anyway. Libya is not a place to stay. When we lived in the house and someone got very sick, he could not go to the hospital. How can you stay in such a society? Even the way you look at people on the road matters. As a foreigner, you look into the eyes of a woman and you have committed a crime. There is no space for us to live in that society.
But going back is not possible, because of what you have to spend on the road, as we knew from coming to Libya. After such a long journey, you have no more savings. Returning would mean to go from zero to a deficit. If you had spent the time in Libya in your home country instead and done something there, you would at least have developed yourself. But now, going back is not a solution. You have to find a way to get to Europe to at least build a new life.
In Libya, in the prison, there is violence every day, so we wanted to leave.
Anytime you attempted to break out of the prison, there were people with guns. There was one man we nicknamed "Commando". Whenever he came near the prison, you would hear the sound of his gun. He wanted to threaten everybody by letting them know he was coming. You know, that alone is crazy.
Anytime you attempted to break out of the prison, they had these metal sticks, maybe 1.5 metres long. They used them to hit people. Sometimes they would break people's hands. One of my friends, four of his bones were broken this way. You know, sometimes they would be watching you, and then they would start hitting your feet. If all this happens to you once, then twice, you will find a solution for yourself. And the solution is not to live in Libya. It's to cross the Mediterranean and get to Europe.
I was aware of how dangerous it is to cross the sea, but you know, it's better to die in the Mediterranean than to die on land in Libya.
Because there, you are valued less. If you die in the Mediterranean, your body will sink perhaps. But if you die as a foreigner in Libya, no one knows where your dead body is. They will take it and who knows whether they throw it away. In Libya, not even your dead body is safe.
* The name was changed to protect the identity of the survivor.
* Recorded by crew members during the second operation with Humanity 1.
* The cover picture is a symbolic picture.