Donate regularly
reliable
support
We can only plan our rescue operations with regular donations. Part of our regular expenses such as port fees or the maintenance of the ship are already covered by the current permanent donations of 376,022 euros. But in order to also finance, for example, food supply on board or legal support, we need more regular donations – only then can we reliably rescue.
Look at what we made possible together and what we can still achieve if we pull together.

Reliable help
With 15 euros a month, you give the often severely hypothermic survivors two warming blankets.
With 30 euros a month, you provide three children on board with warm, dry clothing.
With 45 euros per month, you finance a rescue kit that the survivors receive on board.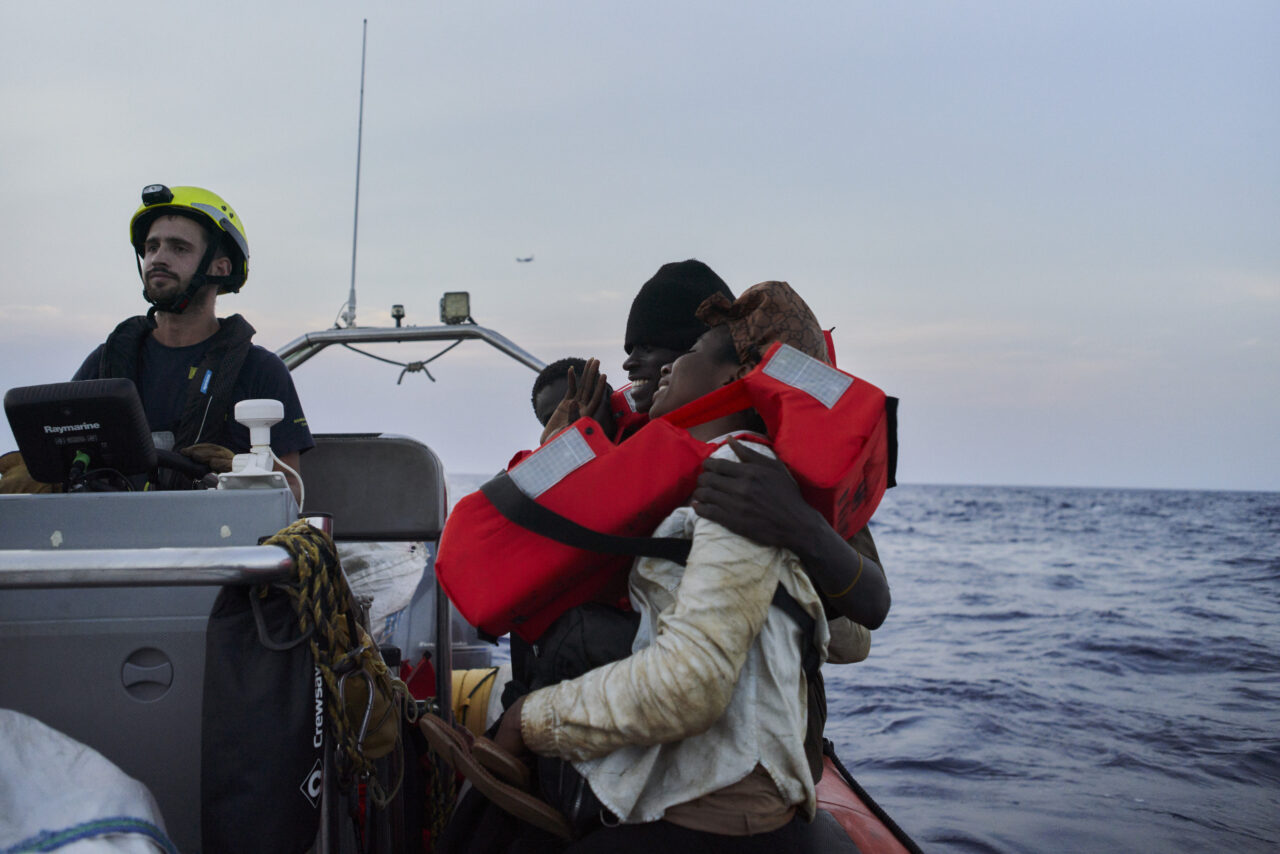 Become an important member of our mission!
As a permanent donor, you are an important part of our mission. Because for our life-saving work at sea, we need the same things over and over again: rescue kits that survivors receive when they come on board, food to feed rescued people and crew, medicines and bandages, fuel and so on.
Because maritime emergencies cannot be planned, but your support can. Become a regular donor now!
Why we need regular support:
This year more people are dying in the central Mediterranean than at any other year since 2017. Especially now, evvery rescue ship counts!
That's why we are planning as many missions as possible – despite all adversities, despite increased costs for operating Humanity 1, despite political headwinds as well as legal hurdles.
Travel and accommodation: Our international and professional crew consists of 28 people. Many of them work voluntarily for SOS Humanity. For each mission, they travel to Syracuse, Italy, to prepare for the mission in port and on board. The journey there and the accommodation for the crew members costs about 100,000 euros a year.

Port fees: For the operation of a rescue ship like the Humanity 1 and the implementation of the missions, costs are incurred on an ongoing basis. With every mission, fees are incurred for necessities such as berths, waste disposal and customs. These costs amount to approximately 74,000 euros annually.
Maintenance of the ship: To ensure the safe operation of our well-equipped and professional rescue ship, spare parts have to be procured, repairs carried out and consumables maintained again and again. The maintenance, repair and upkeep of the Humanity 1 costs around 70,000 euros per year.

Communication tools: One of the most important factors for a successful search and rescue operation is communication. The crew is in contact with the authorities and the team in Berlin. To do this, they need satellite and port internet, a telephone and a radio system, for example. These means of communication cost about 32,000 euros per year.
Humanitarian emergency care: During and after the rescue, the protection of the survivors is the highest priority. The survivors receive dry clothing, warming blankets, hygiene products and towels on board. The costs for this amount to 75,000 euros per year.

Legal advice and support: An irreplaceable pillar of our rescue work is legal advice and support. Time and again, state actors obstruct our rescue work in the central Mediterranean. This has also increased our running costs for legal support to the amount of25,000 euros a year.
Medical care: The onboard clinic of Humanity 1 stocks ointments, bandages, (fever-reducing) painkillers, preparations against seasickness and other medications. In addition, the crew has the possibility cater to the special medical needs of pregnant women and babies. The running costs for medical care amount to approximately 32,000 euros.

Safety equipment: Our crew members always give their all during a rescue and risk a lot to save other people's lives. To ensure that our crew is protected in the best possible way during the operation, they need the right equipment. Safety clothing, work life jackets, dry suits and similar products for our crew cost about 15,000 euros a year.
Search and rescue equipment: In order to bring people from unseaworthy boats safely on board Humanity 1, our crew needs the right equipment such as life jackets, binoculars, cameras and search lights. Crew members also need to attend training in advance. Both cost about 25,000 euros per year.

Food supply on board: In our galley, crew members cook exclusively vegan meals for the crew and the survivors. The people on board get three meals a day. For the survivors, these are often the first meals they have had in days. About 95,000 euros are spent annually for food supply on board.

Your regular donation
In Germany, your sustaining membership fee is tax-deductible. The sustained membership itself is voluntary and can be cancelled at any time.