Saving lives
Together
for rescue
With our rescue ship Humanity 1, we bring more humanity to the Mediterranean. We rescue people seeking protection from drowning, care for them on board and bring them safely ashore.
Our operations in numbers

36.239
people we could rescue since 2016*.
26
Rescue operations with our rescue ship Humanity 1.
568
of those rescued were children and minors.
Our rescue ship Humanity 1
The <span id="humanity" Humanity 1 is one of the largest and best equipped rescue ships in the central Mediterranean! Its name is compass, reminder, and a call to action at the same time.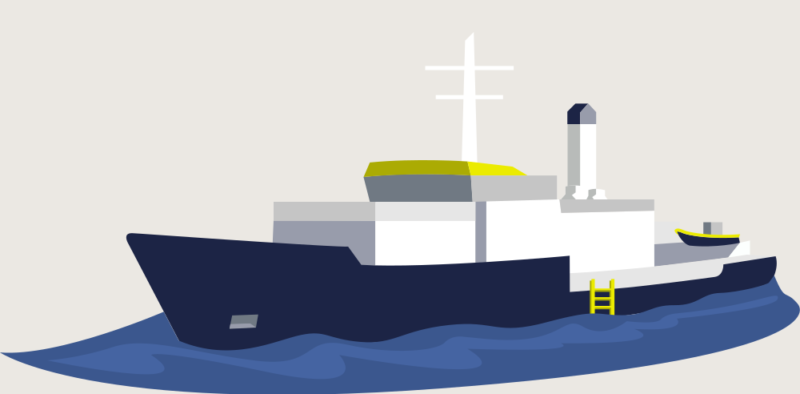 Range

7.400 km

Year of construction

1976

Output

1.264 PS

Length

60 m

Flag

DE

Costs / Day

9.000 €*
*This corresponds to all costs incurred for the operation of the ship (such as care of the rescued and the crew, equipment, fuel and logistics).

Crew on board
Medical & protection team
Communication & research team
3 persons ( including photographer)
Our international crew consists of 28 people. Some of them are permanent employees while others join us on board as volunteers. You want to join our crew to save people from drowning? Check our crewing website. There you will find further information.
One slot on board is reserved for journalists.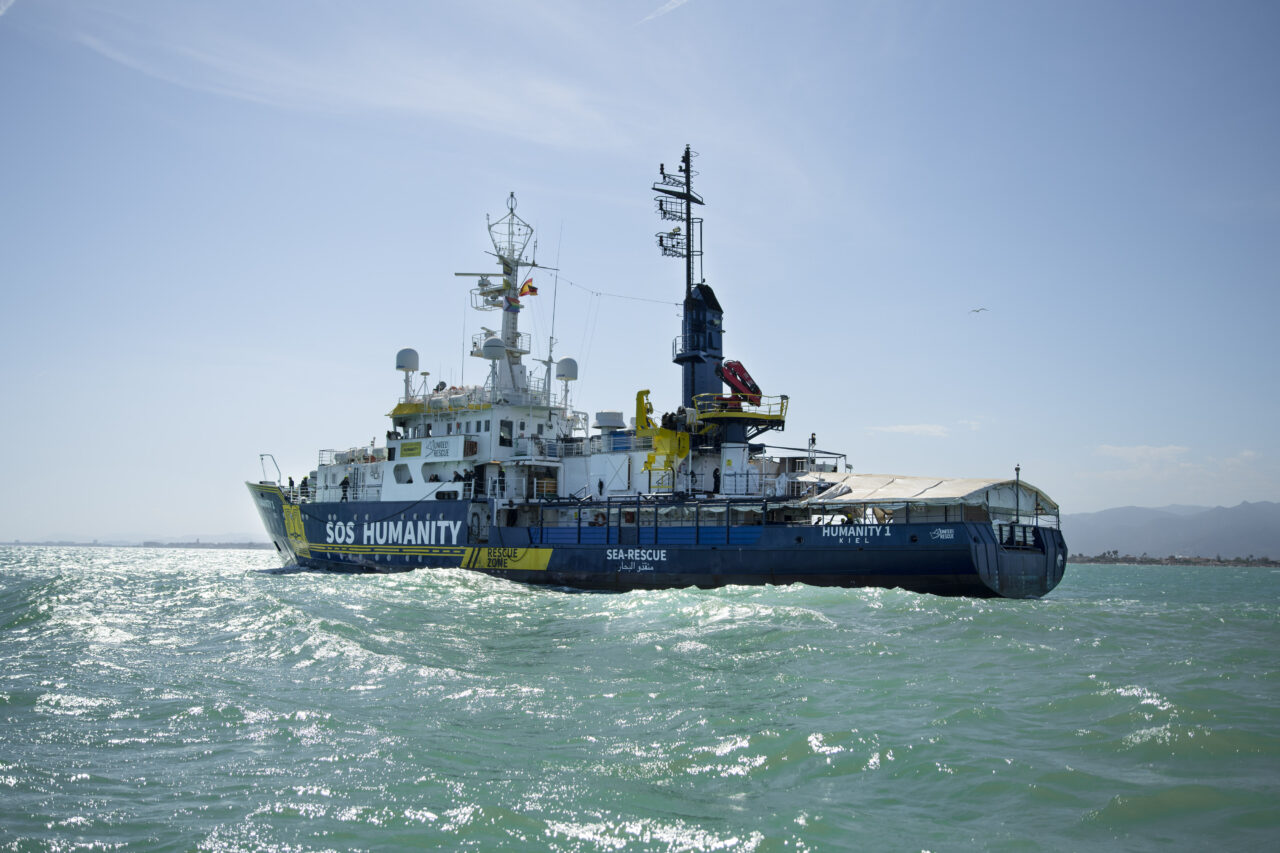 The Humanity 1
The Humanity 1 was the first alliance ship of United4Rescue operated by Sea-Watch as Sea-Watch 4. Until the transfer to SOS Humanity in August 2022 almost 1,900 people have been rescued and brought safely ashore by Sea-Watch since its first departure in 2020.
In July 2022, the ship entered dry dock for mandatory routine examination and was christened Humanity 1 on 19 August 2022 in Vinaròs, Spain. At the end of August, the Humanity 1 set off on its first mission towards the central Mediterranean, where its crew will save people from distress at sea.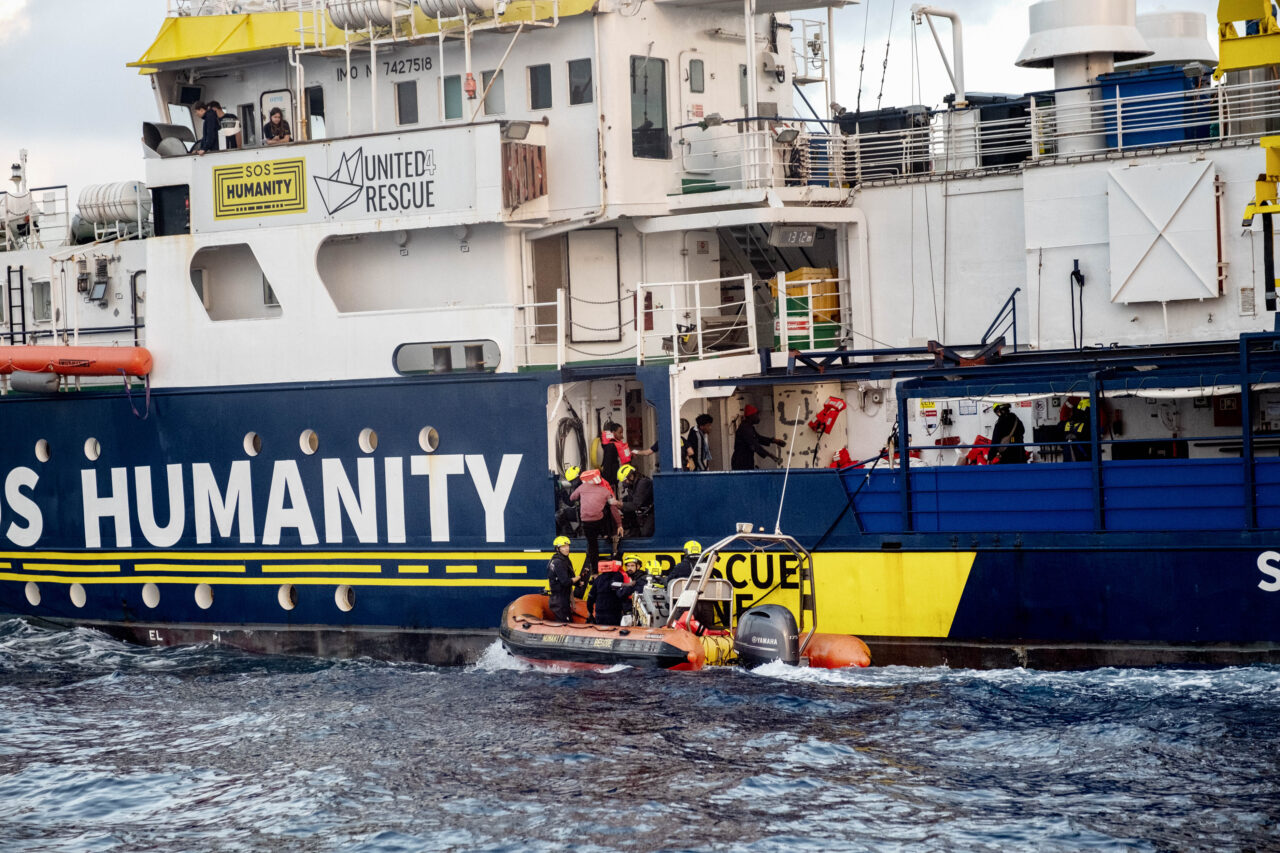 Equipment on board
The Humanity 1 is well equipped for search and rescue operations in the central Mediterranean. To detect distress cases at sea, the bridge has a standard radar and a high-performance radar at its disposal. From the moment of arrival in the rescue area, crew members are on the lookout for boats in distress with binoculars as well as stabilised high-powered binoculars around the clock.
Two fast rescue boats (RHIBs) and 500 life jackets for adults, children, and babies are available for rescue operations. Another 500 life jackets are on board for emergencies. In addition, life rafts, centifloats (bananas) and other rescue equipment that keep people afloat in an emergency are available.
To provide the best possible care after a rescue, all survivors on board receive a rescue kit containing dry clothing, hygiene articles, emergency food, and drinking water.
There is also a clinic on board, equipped with two beds for acute emergencies as well as respirators, surgical instruments, and the most important medicines, among other things. The ship also has a separate shelter for women and children.
On board

Raphael Schumacher / SOS Humanity

Raphael Schumacher / SOS Humanity


Max Hirzel / SOS Humanity

Camilla Kranzusch / SOS Humanity

Max Hirzel / SOS Humanity