Blog from aboard 07 – Part 1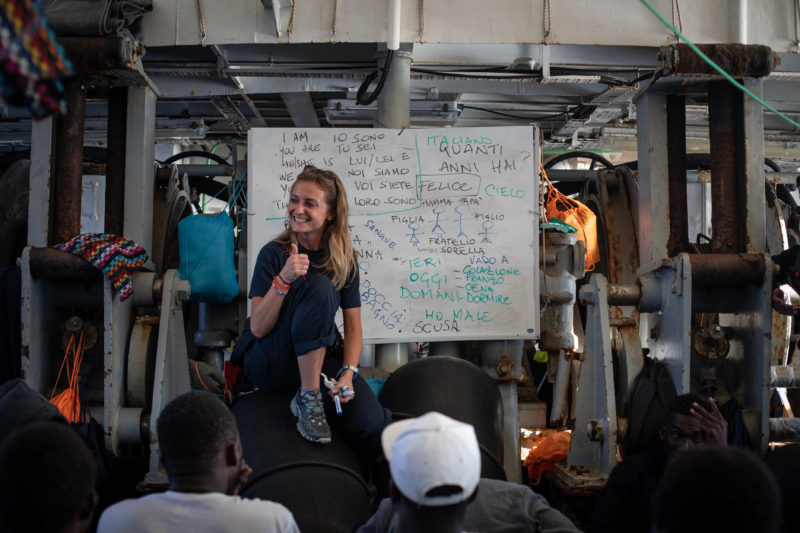 "No one knew if they wanted to prevent our rescue." Press Officer Petra looks back at the second Search & Rescue Rotation of Humanity 1.
Thursday, 15. november 2022
Part 1 – Life on board
Before I left Berlin six weeks ago, I was of course aware that the new, right-wing government in Italy would soon come up with new measures to hinder the work of non-governmental search and rescue organisations. That they would come so quickly and cause so much contention was not something I was prepared for – none of us were.
After rescuing 180 people from three boats in distress in international waters on 22nd and 24th October, we headed north for a few days to bring those rescued ashore. The day after the first rescue of 45 people, from a wooden boat that had run out of fuel after four days at sea, we sent our first request for a safe place for the survivors to the relevant authorities. It was to become the first of 21 such official requests, without a safe place being allocated to them all until the very end.
The second rescue of 113 people from an overcrowded inflatable boat two days later was complicated. It was stressful, especially for the refugees, because the EU-funded Libyan coast guard showed up. No one knew if they wanted to prevent our rescue operation. We were lucky, they only watched on – but still caused panic on the rubber dinghy.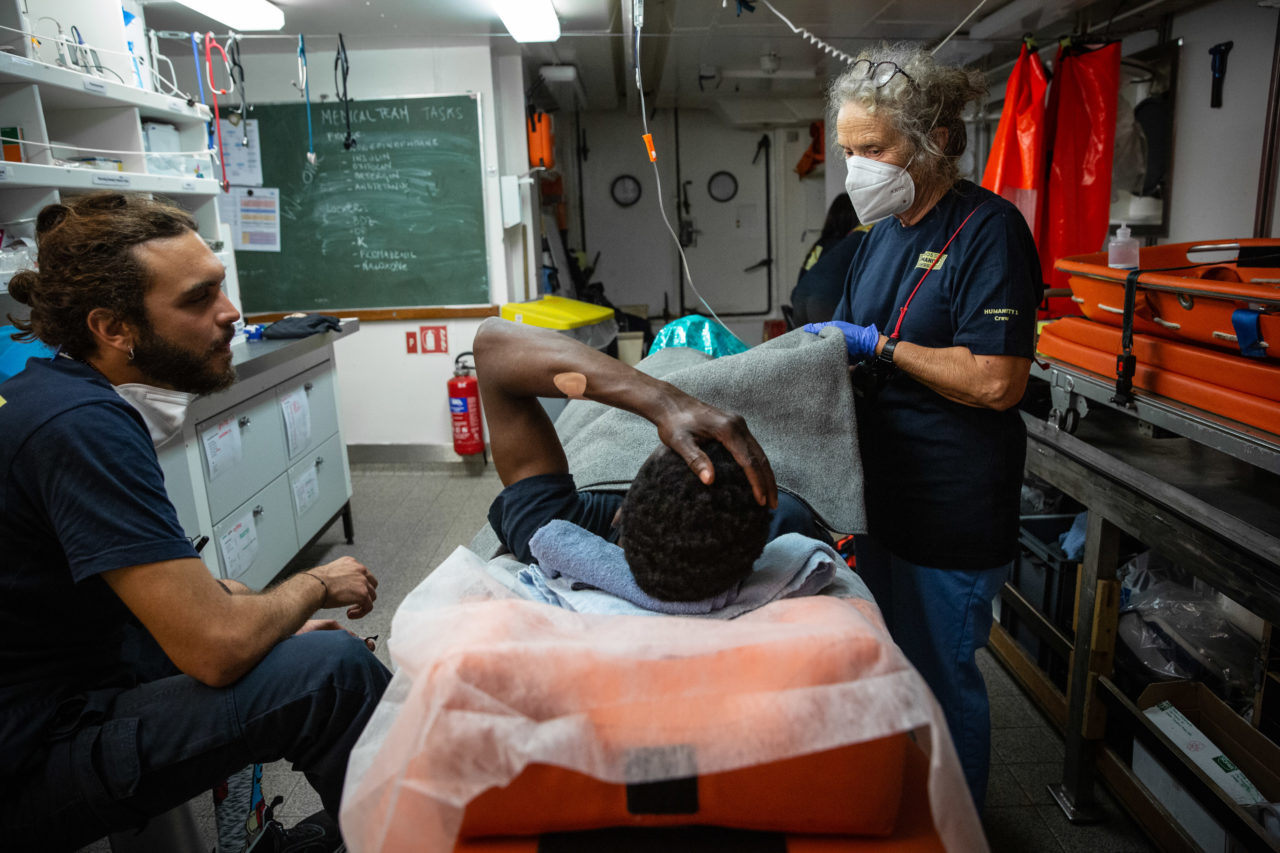 The third rescue took place in the evening of the same day: we were able to get 22 soaked, freezing and frightened people off a small dinghy. We now had 180 survivors on board, 105 of whom were unaccompanied minors. All of them were in a vulnerable condition, all of them needed to be taken to a safe place on land immediately. We wanted to do as much as we could for their wellbeing in the coming days – or, as it turned out, more than two weeks. This meant that the onboard clinic was open for at least two hours in the morning and two hours in the afternoon, and everyone had the opportunity to see our doctor and our emergency paramedic with possible ailments. In the first few days particularly, many of those rescued complained of insomnia and various pains. It was a blessing to have our Mental Health Specialist on board! Luca used every unoccupied time slot in the clinic to hold confidential psychological consultations. He often only arrived for dinner very late in the evening.
Our motto was: structure gives support – and so we organised the typical daily routine on deck for those rescued like this:
Breakfast is distributed at 8:00 a.m., consisting of nuts or sesame bars. Tea is available regardless, day and night. This is followed at 10:00 a.m. by the morning meeting with everyone, led by our Care Coordinator David. He works with the Cultural Mediator Fares, who always translates into Arabic, as well as a Pakistani from among the survivors who speaks good English and has offered to translate into Urdu. We make it known what we are doing to ensure that we are assigned a safe place in Europe as soon as possible and prepare people for an uncertain waiting time, asking for patience. Here they can ask questions or express concerns. In the following days, and also in one-to-one conversations, people repeatedly express their lack of understanding as to why it is taking so long until they are allowed ashore. An Arabic-speaking survivor asks Fares not to sail so close to the coast of Sicily; seeing the lights of the cities is too painful for him and the others.
After the morning meeting we offer some sport. Photographer Max is a natural trainer for the workout session, which goes down well. Every morning a barber's is set up: the men shave each other, comb and cut hair or trim beards. When distributing lunch, we play music, greet each person as they hand over their plate, ask how they are doing, joke a little.
In the afternoon, Italian lessons are on the agenda: our doctor on board, Silvia, is happy about the diversion and is highly motivated. Afterwards, many want to use their newly learned vocabulary and small phrases with us directly. Cards and board games as well as books have been distributed. Speakers are available to play music via Bluetooth, but have to be shared: only one group at a time can play their own music, which some individuals have on their mobile phones. We make sure that things are fair.
The structure of the day ends with dinner and washing and drying the cups and plates. We do this on deck, by hand, always in a team of crew members and volunteers together. This works well and again gives us a chance to talk a bit. A Gambian boy tells me I look just like his aunt. I ask if she is nice. "Very nice!" High five, we laugh together. But we also hear negative stories. Another minor from The Gambia tells me that his older brother had taken him to Libya, that he had found work. But then his brother was shot, just like that. After that, the boy only wanted to get out. A sixteen-year-old emphasises that he has to support his mother and his little siblings from Europe; their father is dead. That is all he wants from life, he says, because his mother is the most important thing.

Max Cavallari / SOS Humanity

Max Cavallari / SOS Humanity

Max Cavallari / SOS Humanity

Max Cavallari / SOS Humanity
How quickly bonds are formed between the people rescued and the crew! More and more, we know their names, and they know ours. When I come on deck with a copy of our annual report to better explain my work, it is literally snatched out of my hand. The interest is huge, even though we only have the 2021 report in German. Sometimes we just talk about life in The Gambia or in Germany, about God and the world. A group of Gambians cannot believe that I am not religious. One of them explains that he will pray for me, that they all pray for us crew members every day anyway. I am touched; I was not aware of this when I saw them praying, mostly in small groups.
An infectious cold spreads among the survivors and, despite wearing FFP2 masks, also among the crew. Fortunately, they all tested negative for coronavirus at the onboard clinic. It is the end of October, the nights are getting colder, especially the wind. We close the sides of the aft deck with tarps. We distribute a second blanket to everyone, since all the rescued people sleep outside on the deck. There is only a larger cabin for women and children.
After almost two weeks, we notice that the people on Humanity 1 are becoming more thin-skinned. By the beginning of November, it has become increasingly difficult to ask them to be patient. This patience will soon be put under even greater strain, for one group of 35 men in particular.