Illegal decree – Italy announces to push back protection seekers on board Humanity 1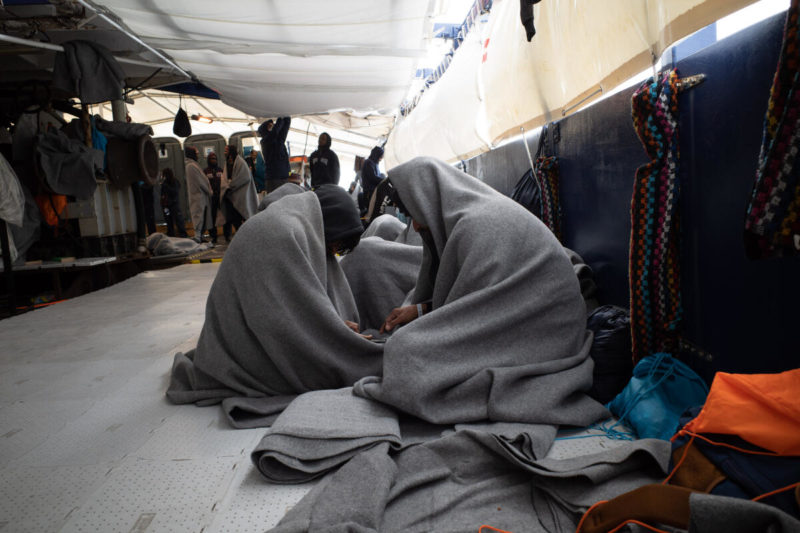 Illegal decree - Italy announces to push back protection seekers on board Humanity 1
Berlin, 5.11.2022
Illegal decree – Italy announces to push back protection seekers on board Humanity 1 
After more than two weeks of waiting and 21 requests to the relevant authorities 179 people rescued from distress at sea on board the civil rescue ship Humanity 1 are still waiting for a place of safety. Due to a storm, the ship – after priorly informing the Italian rescue coordination centre and consulting the responsible port authority – entered Italian territorial waters off the Sicilian city of Catania on Friday evening to seek shelter from high waves and strong winds.  
Also on Friday evening, the captain of the Humanity 1 received a letter signed by the Italian Ministers of the Interior (Matteo Piantedosi), Defence (Guido Crosetti) and Infrastructure & Mobility (Matteo Salvini). The decree prohibits the Humanity 1 from remaining in Italian territorial waters for longer than "necessary to ensure rescue and assistance operations for people in emergency conditions and in precarious health conditions." The decree indicates that particular vulnerable people will be identified and only a selection of survivors will be brought ashore from the vessel anchoring outside the port.  
"The Italian Minister of Interior's decree is undoubtedly illegal," says Mirka Schäfer, advocacy officer at SOS Humanity. "Pushing back refugees at the Italian border violates the Geneva Refugee Convention and international law. All 1,078 people rescued from distress at sea on board Humanity 1, as well as on board the civil rescue ships Ocean Viking, Geo Barents and Rise Above, are in need of protection. Italy is obliged to let all survivors go ashore immediately."  
Regarding a possible selection of the survivors on board the Humanity 1, for which the ship has not received any instructions, Schäfer further explains: "All 179 survivors on board the Humanity 1 are people rescued from distress at sea who, according to international law, must be brought ashore to a place of safety without delay. The survivors fled Libya, where they were exposed to human rights violations such as torture. As refugees, they are clearly in a vulnerable state, some of them visibly traumatised. Those rescued must be allowed to go ashore immediately, where their medical and psychological care can be ensured, and they can exercise their right to apply for international protection.  It would be inadmissible under international law and from a humanitarian perspective to disembark only a selection of the survivors." 
The captain of the Humanity 1, Joachim, emphasises: " As the captain, I am responsible for the safety of all people on board. After about two weeks on deck, in these stormy conditions and especially with the survivors' history in Libya, all these people are in need of protection. We are also running out of food on board in a short time. We urgently need disembarkation in a place of safety for each and every one of these people. This is their right and I will fight for it."  
Since Friday, the rescued people have been suffering from the sudden change in weather, freezing on the deck that is only partially protected by a tarpaulin and getting wet during the rainy and stormy night. This weather situation puts additional stress on the people, especially on the more than 100 unaccompanied minors. In addition to the significantly worsened weather situation, the adequate supply of food is also limited in time: Two hot meals can only be provided for three more days. After that, only plain couscous and rice supplies are available on the ship. 
"We call on European states, as well as civil society, to act immediately and not to just sit idly by and accept this injustice", Schäfer stresses. 
Please find the decree of the Italian government as a PDF here.
Your contact person:
Wasil Schauseil, press contact SOS Humanity, press@sos-humanity.org, +49 (0)176 552 506 54
Photo credits: Max Callavari / SOS Humanity