Your T-Shirt for more Humanity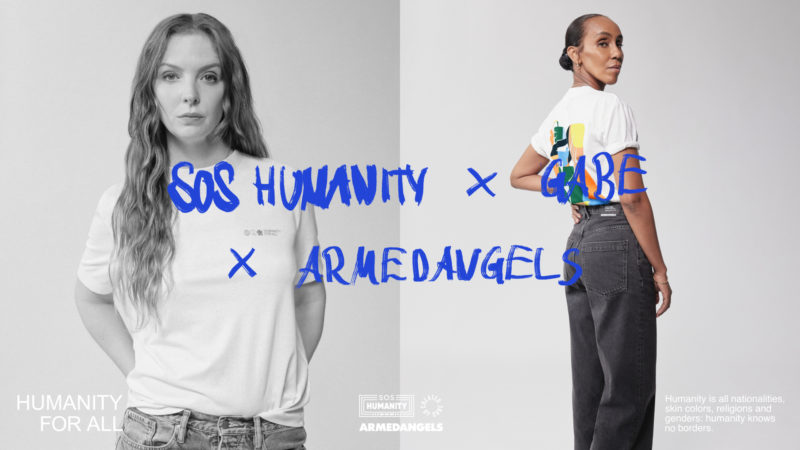 On World Refugee Day, we are launching the limited edition t-shirt #HumanityForAll together with Armed Angels and the artist Gabe. With the purchase of each T-shirt, a sign of solidarity is set and a donation is made at the same time. Because 100 percent of the profits go to SOS Humanity.
With the #HumanityForAll t-shirt, we are calling for the protection of everyone's human rights together with the actors Heike Makatsch, Bjarne Mädel, Pheline Roggan and Daniel Sträßer as well as the presenter Hadnet Tesfai and the singer Tarik Tesfu. Because: Humanity knows no borders.
More than 100 million people are on the run worldwide. More refugees than ever before. The Mediterranean is still the deadliest escape route in the world. In the first five months of this year, over 1,000 people have already drowned in the central Mediterranean. On average, almost seven people per day, one person almost every three hours.
This makes it all the more important that we do not miss a single mission. With our ship, the Humanity 1, we were able to save 1,042 people from drowning. But in order to continue saving lives, we need your help now! We need 270,000 euros by 15 July to finance our next mission. Buy your #HumanityForAll t-shirt now to support our life-saving work. Every t-shirt sold makes a difference!
By buying a #HumanitForAll t-shirt
you draw attention to the humanitarian disaster in the Mediterranean.

you set a sign for more humanity.

you foster dialogue and break down barriers to bring forth lasting transformations.

you help saving lives.
"I hope this #HumanityForAll t-shirt I designed will make a small contribution to enabling the important work of SOS Humanity and raising awareness of the ongoing inhumane situation in the Mediterranean."