SOS Humanity baptises its new ship: the Humanity 1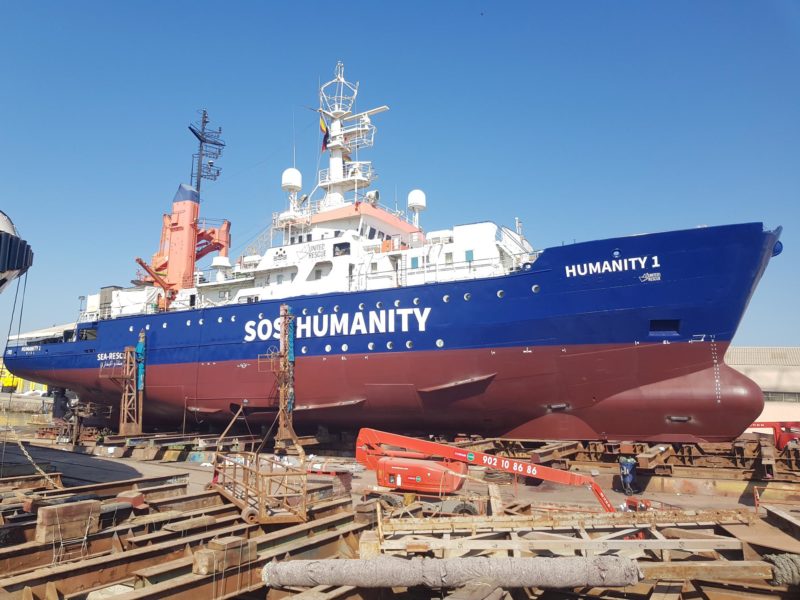 10.08.2022. The Berlin-based search and rescue organisation SOS Humanity has a new ship: on August 19, the repainted Sea-Watch 4 will be baptised "Humanity 1" in the Spanish port of Vinaròs. Shortly after, the rescue ship and its 28 crew members will set sail for the search and rescue region in international waters off Libya.   
The godmother is journalist and presenter Hadnet Tesfai. Numerous celebrities, including actresses Katja Riemann and Heike Makatsch, are committed to the donation-funded work of SOS Humanity and raise their voices at the occasion of the christening.   
Heike Makatsch explains her commitment: "For me, humanity means the opposite of 'survival of the fittest'. Humanity recognises every human being as equally valuable. We are all one, and we do not let our brothers and sisters drown while they are desperately fleeing across the sea."  
The escape route across the central Mediterranean Sea continues to be one of the deadliest in the world. Almost 20,000 people have drowned there from 2014 up to now. Founded in 2015 as SOS Mediterranee, the German non-governmental organisation has since been active in rescuing fleeing people from distress at sea and informing the public about the abuses at the EU's maritime external border. 
"After separating from the European SOS Mediterranee alliance at the end of 2021, we are delighted to be back at sea with our own ship, soon", says Maike Röttger, executive director of SOS Humanity. "There are not enough rescue ships in the central Mediterranean. With the Humanity 1, we intend to save more people – because every six hours, one person dies on that deadly escape route. We cannot accept this and need to take action."    
The crew, consisting of the search and rescue team, the nautical crew and the medical & care team, will embark on a week-long quarantine on the Humanity 1, docked in the picturesque port of Vinaròs, after the baptising celebration. The experienced crew members, some employed and some volunteering, come from Ghana, Mexico, Jordan, Germany, Kenya, the UK and other countries. More than one third of them are women.
Who: search and rescue Organisation SOS Humanity
What: Baptising of the new rescue ship Humanity 1
When: 19 August 2022, 9.30 am
Where: Port of Vinaròs, Spain (north of Valencia)