SOS Humanity publishes first rescue report: Lack of information on distress cases, no coordination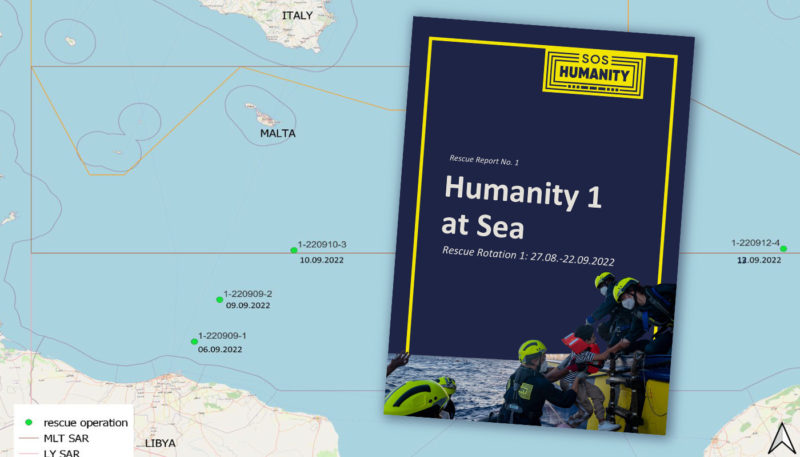 29.09.2022. The non-governmental search and rescue organisation SOS Humanity criticises the state authorities responsible for sea emergencies in the Mediterranean in its rescue report published today. Numerous facts and figures describe in detail the lack of support during four rescues with a total of 414 survivors.
The report also gives an account of the eighteen requests for a place of safety and the agonising waiting of up to seventeen days on board for hundreds of people. The fact that 187 minors were on board, including many small children and 105 unaccompanied minors under the age of eighteen, did not expedite the assignment of a safe port. Fresh water and food eventually had to be rationed, hygienic and medical conditions were precarious.
"State actors are disregarding their legal obligations to rescue people on the move in the Mediterranean. We had to experience this once again during the first rescue mission of the Humanity 1," says the advocacy officer of SOS Humanity, Mirka Schäfer, who was on board covering a new crew position as human rights observer for four weeks as of the end of August. "It puts human lives at risk when rescue coordination centres do not inform non-governmental ships about distress cases. The fact that they refuse to coordinate rescues including NGO ships is inhumane. Without the joint efforts of civilian actors we would have even more deaths at sea. The European Union must end this policy of state neglect of human lives immediately."
SOS Humanity's rescue report gives a detailed chronology of each rescue, and analyses current experiences at sea and with state actors. The search and rescue organisation explains what is needed so that people no longer drown in the Mediterranean. The most important conclusion of the SOS Humanity rescue report: European state agencies must comply with international maritime law. This means they have to coordinate rescues with all available ships and promptly assign a place of safety.
"Our rescue mission shows once again that seafarers are left alone during maritime emergencies in the Mediterranean, which is unacceptable to me," Konrad, First Officer on Humanity 1, is quoted in the report. "I therefore call on European states to fulfil their obligation to coordinate maritime emergencies at European level."
You can find all the details in the rescue report, available online as of today.
Your contact person:
Wasil Schauseil
Koordinator Kommunikation Land / See | Communications Coordinator Onshore / Offshore
presse@sos-humanity.org
T: +49 (0)30 2205 6811/ M: +49 (0)157 85060814