T-shirt collaboration: SOS Humanity, ArmedAngels and artist Gabe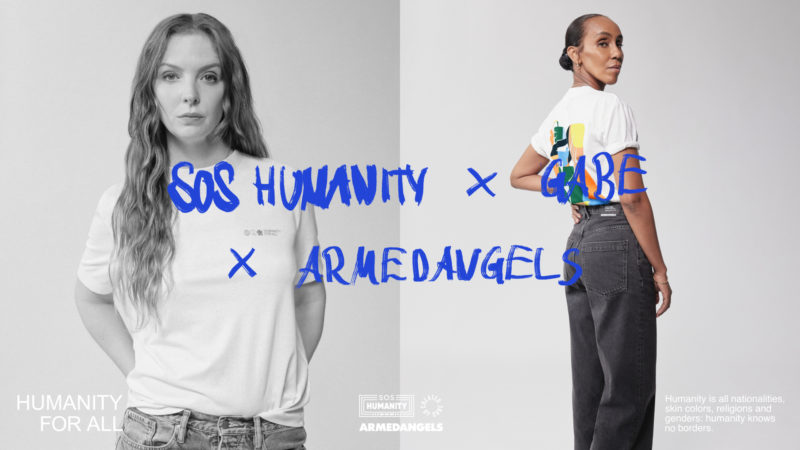 On world refugee day ArmedAngels and SOS Humanity are launching a limited #HumanityForAll T-shirt edition in collaboration with the artist Gabe. This cooperation sets a joint sign for more humanity and climate justice. The profit from the sale goes to the civil maritime rescue organization SOS Humanity. 
With the #HumanityForAll T-shirt, ArmedAngels, SOS Humanity and Gabe collectively focus on the humanitarian catastrophe in the Mediterranean Sea. They are supported by the actors Heike Makatsch, Bjarne Mädel, Pheline Roggan and Daniel Sträßer as well as by the moderator Hadnet Tesfai and the singer Tarik Tesfu.
With the campaign claim "humanity knows no borders" they demand more humanity and the protection of the human rights of all. The donated profits from the T-Shirt sale support the civil maritime rescue organization SOS Humanity, which saves refugees from drowning on the Mediterranean Sea. More than 100 million people are displaced from their homes worldwide. The number of refugees is higher than ever before. They are fleeing from war, persecution, and the impacts of the climate crisis. Climate change exacerbates conflicts, environmental disasters, poverty, and famines, driving more and more people to seek refuge. In just the first five months of this year, over 1,000 people drowned in the Mediterranean Sea while attempting to cross it, on average, almost seven people per day, one person almost every 3 hours – the Mediterranean still remains the deadliest migration route in the world. These tragic numbers show that the climate crisis is not only an environmental challenge, but also a humanitarian one – because it threatens basic human rights, such as the right to life.
I hope this T-shirt will at least be a small contribution that enables SOS Humanity to do their important work and draw attention to the ongoing, inhumane situation in the Mediterranean Sea.
ArmedAngels and SOS Humanity joined forces with the artist Gabe to use the designed T-shirt to carry the message #HumanityForAll into the world. By purchasing the limited edition T-shirts, not only a sign of solidarity for more humanity and climate justice is set, but also a donation to the civil maritime rescue organization SOS Humanity, because 100% of the profit will be donated.
If you have any questions, please do not hesitate to contact us:
press@sos-humanity.org