"The whole inside of my body hurts."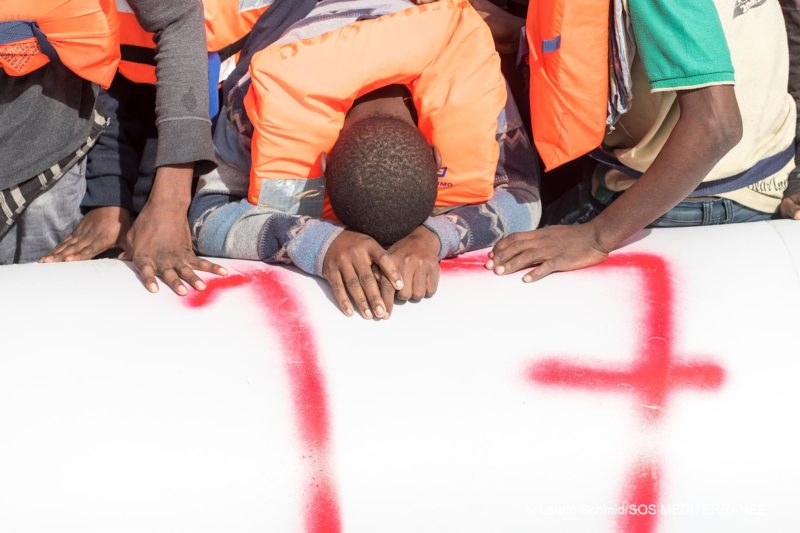 [Trigger warning] This text describes different forms of torture.
Amir* was rescued by the Ocean Viking on 20 March 2021 from an overcrowded rubber boat in international waters off Libya. The 15-year-old unaccompanied minor spent nearly 10 hours in the makeshift boat, along with 105 other people. No one had a life jacket when our teams spotted the boat, which was taking on water.
The text was written on board the rescue ship Ocean Viking, which we operated as the German part of the European network SOS Mediterranee until the end of 2021.
Amir survived terrible abuse in Libya.
When he arrived on board the Ocean Viking, he asked to see our doctor on board, complaining of pain all over his body and especially in his back. He shook and flinched every time Caterina, the doctor on board, touched a vertebra. He then began to tell the story of the origin of his pain. A testimony collected by Caterina, medical doctor, and Anthony Jean, photographer onboard Ocean Viking.
"At the end of last year, I was caught by Libyan brigands. I was in a camp, they asked me to call my parents and ask for 2,700 Libyan dinars. When I called my parents, they had put electric clamps on my back and electrocuted me. They hit me with sticks too."  
I was with a friend. My friend was beaten to death. He left. For him, it's over.  
"My mother managed to collect half the money they asked for. She sent it. They continued to electrocute me for several days. Then one day I managed to escape with some friends. I was caught again by other brigands. I was tied up naked, crosswise on a wall for three days. Every day they lifted my feet and beat me with clubs on the soles of my feet. Morning, noon and night they also threw buckets of ice-cold water on me to get money. But I didn't know who to call. I had no money. I stayed in that camp for two months. Many people died in there. 
Fortunately, once again, I managed to escape.
 
But then I was caught by the government police. They asked me if I wanted to be repatriated. I was happy to be repatriated to my country of origin so that I could die there, with my family. But it never happened. I stayed in that prison for three months. 
Finally, I managed to get on a boat.   
 The whole inside of my body hurts."  
The blows from the sticks at the time left huge bruises. The marks are gone now, but inside they remain for a very long time.
* The name has been changed to protect the identity of the survivor.
* The text was documented by members of the crew on board the Ocean Viking and translated into German.
* Photo credits: Laurin Schmid | symbolic image