"There is no safety and no future in Libya."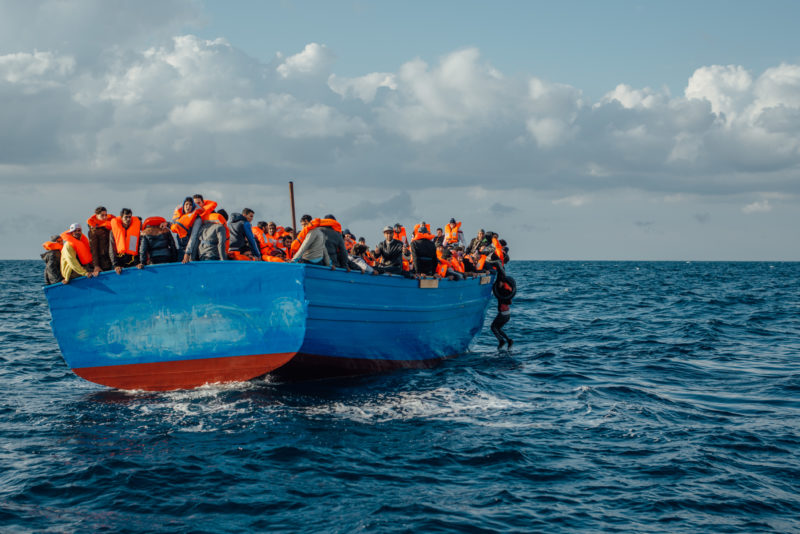 On September 19, after the team onboard Ocean Viking had performed a first rescue of 25 people and witnessed two interceptions by Libyan coastguard the day before, a small wooden boat was spotted via binoculars. A total of 33 people were found in distress onboard, including eight women, thirteen children and three teenagers. Among them was Mariam*, a Libyan mother of four, on the move with her family to escape the violence and chaos which, she explains, has gripped her homeland since 2010.
The text was written on board the rescue ship Ocean Viking, which we operated as the German part of the European network SOS Mediterranee until the end of 2021.
Mariam* decides to testify after several days spent onboard the Ocean Viking, awaiting authorisation to disembark in a Place of Safety. She wants to explain why she fled her country by the sea with her four children and her husband, on this month of September 2021: "There is no safety and no future in Libya", she begins, "we had to leave because we had to secure our children's future, which is impossible in Libya because of violence and insecurity."
For Mariam*, the main security issue in Libya is due to the fact that the country is "basically only ruled by militias". Mariam* is from Zuwara, an important coastal city, in which she explains having demonstrated against the "militia's governance":
My town is very small and completely surrounded by militias. As soon as I would step out of the city, security would cease. Everything is run by militias.
Since 2010, until her departure on September 19, 2021, Mariam felt an increasing danger weighting on her family's everyday life. "When I took a car to go to Tripoli for example, I had to keep in mind that at any time, someone could stop me, and kidnap me or harm me for no reason at all." Mariam explains that there are so many active groups and militias that it is almost impossible for a person victim of an attack to identify his or her aggressor. Impossible even to understand why crimes and exactions are committed.
The violence is so easy and instant. There is no control in Libya. The power is in the hands of the strongest, whoever has more weapons.
"We saw many dead bodies washed up in our shores."
In addition to militias, Mariam dreaded the smuggling activities happening all around her city. Zuwara is one of the main ports from which smugglers and human traffickers send overcrowded boats to a probable shipwreck. A reality that Mariam knows too well. "We know that many people from Zuwara are carrying out smuggling activities. We have done several demonstrations against it because we saw many dead bodies washed up on our shores" she whispers, looking at her hands."
Inhabitants of Zuwara even created a group called the "masked group" Mariam* says. A civilian movement exposing smugglers and having them prosecuted and imprisoned, but the movement has lost steam: "This group was quite strong at the beginning and able to stop part of the smuggling activity, but it didn't get any support from the government and citizens didn't have the means to continue. Right now, the group still exists but is not as strong as it used to be" she regrets.
Mariam and her husband made to decision to flee by sea to secure their children's future, the four of them being between 6 and 12 years old:
My only way to save my family and my children was to take the sea.
"I cannot imagine my kids growing up to become militias or smugglers. I cannot let that to happen." Mariam is a teacher and her husband used to have an executive role in the public service. "We were well off. Money was not an issue at all" she explains,"but I want my children to become well educated, well behaved, empathetic and create a life worth living for them. I don't want them to do amoral jobs just to get money."
Six days after Mariam and her family were rescued by the Ocean Viking, the SOS MEDITERRANEE teams assisted another wooden boat in distress before her eyes. They filled with tears, even though the operation itself ended well, with the people in distress being rescued and disembarked in a Place of Safety by the Italian coastguard. "I cannot explain the sensation I felt when I saw your team perform the operation" she confides, "I wanted to stop this situation from occurring. I pictured again the faces of dead bodies lying on the beach. I felt helpless. I want to help, I just don't know how."
*The name has been changed to protect the identity of the survivor.
Photo credit: Kevin McElvaney | symbolic picture
Testimony collected by Laurence Bondard and translated to German.