Invitation to Press Conference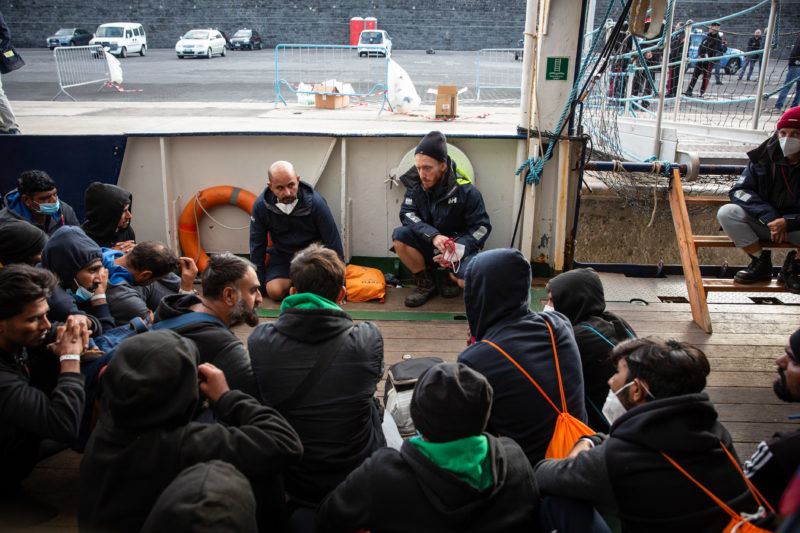 A press conference will be held at the Sicilian port of Catania at 13:00 on 7 November 2022. The press conference is held because the Italian authorities refuse to allow 35 rescued people on board the Humanity 1 to go ashore.
SOS Humanity demands the immediate disembarkation of the remaining 35 survivors on board the Humanity 1, and is taking legal action against the Italian government's latest decree.
In this press conference, we will outline the situation in which the survivors on board the Humanity 1 currently find themselves, and how we as a non-governmental search and rescue organisation are reacting to the decree transmitted to us by the Italian government.
Please also note our press release from yesterday evening on this topic:
SOS Humanity takes legal action against the Italian government
Time:               Today, Monday, 7 November 2022, 13.00
Place:              Catania, Sicily, Italy
Address:         Catania Harbour, Pier 24
with
Till Rummenhohl, Head of Operation at SOS Humanity, currently on board the Humanity 1. The captain of the Humanity 1 will also speak.
The following people will, amongst others, subsequently be available to answer further questions:
Riccardo Campochiaro (Lawyer)
We are grateful for your interest and hope you are able to attend. We will subsequently make a recording of the press conference available for editorial usage. Please see here:
teamnext | Media Hub
For more information, please don't hesitate to contact us:
Petra Krischok & Wasil Schauseil | Press Contact | press@sos-humanity.org | phone +49 176 55 25 06 54
Please find photos and videos of the rotation here. Note that these are for editorial use only.
Copyright: Max Cavallari & Camilla Kranzusch/SOS Humanity.
Find a detailed chronology of the rescues and coordination with the relevant authorities here.
Find a SOS Humanity's press kit here.
For more information in general, please visit our website.
SOS Humanity is a non-governmental organisation that rescues people in distress in the Mediterranean Sea. It was founded in 2015 in Berlin, and subsequently, a network of associations in France, Switzerland and Italy was formed. By the end of 2021, the organisation had rescued a total of 34,631 people from drowning in the central Mediterranean sea firstly with the rescue ship Aquarius and then the Ocean Viking. In order to respond even more strongly to the humanitarian crisis in the Mediterranean, SOS Humanity – since January detached from the former alliance SOS Mediterranee and renamed – is now since the end of August 2022, back at sea with its own ship, the Humanity 1.