Rescue vessel Humanity 1 departed for Central Mediterranean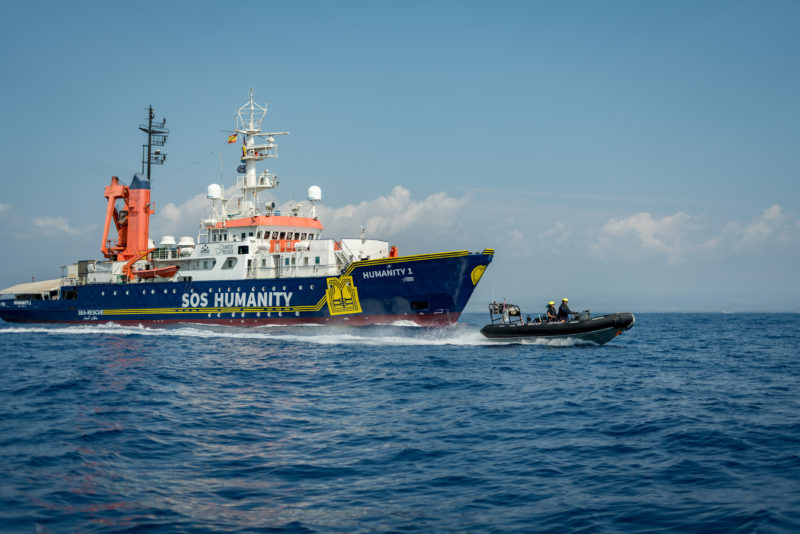 Press release, 27. August 2022
The new rescue ship of the search and rescue organisation SOS Humanity has departed from the port in Vinaròs, Spain, heading for the Central Mediterranean. The Humanity 1 will reach its destination in international waters off the Libyan coast in a few days where its crew will assist people in distress at sea.
"Today is a good day for search and rescue in the Mediterranean, because we are back at sea with our new rescue ship Humanity 1, drawing on our long-term experience," says SOS Humanity Executive Director Maike Röttger. "The central Mediterranean is the world's deadliest maritime flight route. Nonetheless, European states are not fulfilling their duty to rescue people from distress at sea. People die on Europe's doorstep every day, and only a few rescue ships – all operated by non-governmental organisations – are active there. A committed civil society is taking on responsibility and is sending this rescue ship, the Humanity 1. All this is in stark contrast to the EU's political decision-makers."
The civil society alliance United4Rescue acquired the ship in 2020. It was subsequently operated by the search and rescue NGO Sea-Watch for over two years, rescuing more than 1,900 people. One month ago, the so-called alliance ship was handed over to SOS Humanity. It was fitted in a Spanish shipyard and subsequently christened "Humanity 1" in Vinaròs, just one week ago.
New on board is the job position of the human rights observer: "NGO ships are deliberately excluded from the rescue coordination by national control centres. I'm here on board to document such breaches of law and bring them to the public's attention," says Mirka Schäfer, Advocacy Manager at SOS Humanity, currently working as human rights observer on the Humanity 1. "We demand that the European rescue coordination centres coordinate our upcoming rescue operations, as required by the applicable regulations and thus fulfil their obligations under international law."
In response, SOS Humanity has published the petition "SOS in the Mediterranean!" to coincide with the launch of the Humanity 1. The humanitarian organisation is calling on the German Federal Minister of the Interior, Nancy Faeser, to keep the promises made in the coalition agreement. The petition stresses that Faeser must work with the EU to ensure that international law is respected in the Mediterranean and that rescue operations are coordinated at the European level.
Your contact person:
Petra Krischok | Spokesperson SOS Humanity | press@sos-humanity.org | M +49 (0)176 552 506 54
Further information:
You can read the full petition text here.
Find out more about the mission of SOS Humanity on our website.
Photo credits: Camilla Kranzusch / SOS Humanity